3D poker is the new phenomenon that is taking the online poker world by storm. 888poker offers a new and really fun way to play poker, giving you all the fun of playing in a casino without the hassle of having to go there. You will be amazed at how much fun you can have playing 3D poker, without even having to leave your home.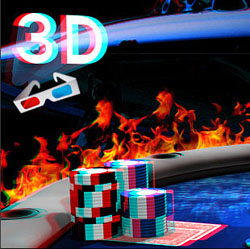 We all know the problems with traditional casinos. Firstly, there may not even be one local, so you can't play in one without travelling a long way, which costs a lot. Secondly, you might meet antisocial people in the casino who are rude to you and the dealers. Thirdly, brick and mortar casinos take an awfully high percentage of rake. These factors combined make it clear why you should be playing poker online. But you could not get a 3D poker experience online like in a casino… Until now.
How to Play Poker in 3D
3D poker works in the same way that the new 3D movies of today work. You get a pair of special 3D blue and red glasses (these are available cheaply), then simply put them on. Once you have put the glasses on, the game becomes 3D to your eyes. This adds an extra realistic feel, almost as if you are there in the real casino, playing with real chips in your hands. Since playing at a real life, brick and mortar casino is often not worth the hassle, you can enjoy all of the good parts on 888poker's new service. This service is one of a kind, giving you a remarkably authentic feeling when you play the games.
888poker allows you to play on the site for free until you decide you want to deposit money. This allows you to try playing on the 3D poker games before you have to commit any of your money. You will love the realism and fun of online poker you can enjoy only when you play poker online in 3D.