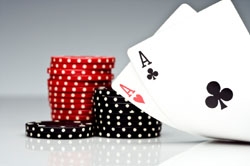 Have you ever wanted to try low poker or high low poker but were afraid you wouldn't understand it? Have you seen them offered in the lobby of your favorite online poker room or any of the other poker sites you play at but were afraid to give it a shot? Do you just want to learn more about these different forms of online poker? Here is a basic primer on the background of low poker and high low poker online.
How To Play Low Poker and High-Low Poker?
Different forms of the game
Playing low poker or high low poker all depends on what actual form of poker you are playing. Believe it or not, low poker and high low poker are not forms of online poker, they are just winning hand structures used with different forms of poker. You play Omaha hi low, Omaha hi, razz, Badugi, and even seven card stud with a low winner.
Strategy
The strategy for playing low poker and high low poker is quite difficult to explain. The best strategy that most players use when playing high low poker is a similar poker strategy they would use if they are just playing the high version of the game, but they take in account that people might be drawing to low hands as well. When you are playing low poker, you have to use a similar strategy, but the exact opposite. The betting is pretty much the same, and if you're playing a draw version of the game, hand reading is relatively nonexistent, so you really have to play by feel and go with your gut feeling. There is a reason low and high low poker is not as popular as Texas Holdem or Omaha hi - it is more difficult to be consistently profitable and most poker pros don't focus on these kinds of games.
Hand rankings
The one thing that you really need to get a grasp of to be successful playing low poker and high low poker is the winning poker hands and their rankings. When playing low poker, the best possible hand is ace, two, three, four, five, if you are playing a five card game. If you are playing a four card game, like Badugi poker, only the four lowest cards make the best hand. It is important to note that in most forms of low poker and high low poker, straights don't count for the low hand.
Next time you log on the Internet to play poker online, why not look for online poker tournaments or other poker events that offer low poker and high low poker? After all, Omaha hi and Texas Holdem can get a little boring after a while, so why not try something new and exciting? You will be glad you did!