Eliminate These Common Mistakes From Your Poker Game And Watch Your Profit Soar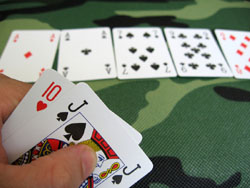 The difference between a losing poker player and a winning poker player is usually only a few basic mistakes. If you can identify these mistakes and take care of them in a timely manner, your online poker game will improve drastically, and your profit levels will be through the roof. Here are the most common mistakes poker players make.
Passive Play
Passive play is for losing poker players. You want to be in the driver's seat making the decisions, not just calling and folding. When you have a strong hand, bet strong. When you have a weak hand, don't call off half your chips – just fold. It's simple, but it works.
Lose Starting Poker Hands
Choosing which starting poker hands to play is one of the easiest things to do, yet so many people don't do it. They get bored and play whatever hand comes to them. If you are just playing poker online for fun, go ahead and do this. But if you are playing Texas Hold'em or Omaha Hi online for profit, choose your starting hands carefully. You will be amazed at the difference it makes.
Lack of Attention
You know you are guilty of this – you are not paying attention to the poker game you are involved in 100% of the time, are you? Very few people who play poker online do. But those people who do pay attention make more profit. Stay focused and watch every move your opponents make.
The key to increasing your online poker profits in online poker tournaments, ring games and other poker events is completely eliminating the above mistakes from your poker game. They may look easy to fix, but in reality, it is quite difficult to break these bad habits. The best way to do that, though, is to spend as much time in your favourite poker room or any other poker sites you play Omaha Hi or Texas Hold'em at and make a conscious effort to eliminate these errors. The sooner you do it, the sooner your profits will explode.