Poker Tournaments: The Games of Choice for Pros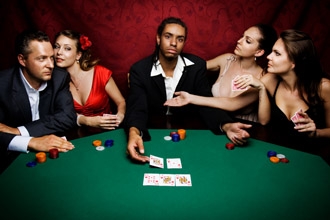 A Poker tournament can become the ideal arena for a novice to develop real poker skills. Above all else, participating in a tournament can be a lot of fun. There is a wealth of information to be learned from participating in a tournament, but also by watching the way other poker players go about their tournament preparation. If you are able to absorb enough, you might end up winning.
What's a Poker Tournament All About?
The major difference between a tournament and a run-of- the-mill cash game is the way in which you buy into the games. In standard cash games, there is a requirement to make a minimum purchase, a buy-in so speak, in order to be allowed into the game. You can pretty much buy-in at whatever price you want as long as it is in between the minimum and the maximum. In a tournament, players have to abide by a set buy-in price.
Another big difference is that in a cash game, once you have lost all your chips, you can come back to the table by buying back in to the game. Tournaments, unless otherwise specified, do not allow you to buy back in. In tournament play, where no re-buys are permitted (often also referred to as freeze-outs), you are only risking your tourney buy-in fees. Other than that, there is no additional risk to players. This is what makes tournament play your secret weapon. You are exposed to a lot of high-level play, you gain tremendous experience, and ultimately you risk very little.
Tournaments have only one major drawback. That is once you're out, you're out for good. How long you play in a tournament is really up to you, and how long you can make your chips last. Another big downside is that most of the other players, apart from the ultimate winner, will be going home empty-handed. If you plan on participating in a lot of tournaments, you have to make peace with the fact that you will not typically be winning. Even the very finest poker players accept this very fact. With so much competition and only a handful of winners, it's the nature of the game.
Keep Your Wits About You
In order to put your head into the game during a tournament you need to understand how your style of play needs to differ from that of a cash game. In each cash game that you play, the overall goal is obviously to win the most cash. Here is where your play needs to differ: your goal in tournament play is to knock out the other opponents. If you win a hand in a tournament, it is not a guarantee of a cash reward, so you need to think and act strategically in order to defeat your opponent. The beginning of any tournament is always marked by relaxed play. The pots are generally smaller too. What is important during the early rounds is to not let yourself be goaded into an all-in situation when you do not have the cards to back it up. If you do find yourself in this situation, you could soon find yourself heading back home. Tighten your game, focus on long-term survival and play your cards right.