Sites like 888poker award loyalty points to their members. As an example of how loyalty points work, you might earn 10 loyalty points for each pound of rake generated. These loyalty points can then be exchanged in the 888poker shop for poker accessories, poker apparel and poker clothing, amongst other more luxurious items.
What Items Are Available?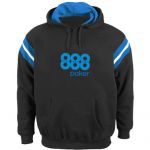 Online poker shops offer a wide range of different items for you to choose from when you want to trade in your loyalty points. A lot of these items are very, very inexpensive, meaning that anyone will be able to benefit from trading in their points – some very stylish poker clothing is available for you to enjoy.
However, some of the items provided are put into the online poker shop so that the higher level and more frequent players can really benefit from their time investment. Items like televisions, laptops and sometimes even classy sports cars find their way into poker sites' shops. If you want a specific item that isn't available in the shop, it is worth emailing the poker site directly. If you have enough points, they may be willing to do a special deal with you to provide the item of your choice. High volume and high-level players are really valued by sites because they provide so much rake. This is why the poker sites are so eager to please.
Can You Trade for Money?
Many sites also provide the option to directly trade your points for either a bonus, or direct money to be deposited into your account. The bonus might be released in £10 increments as you play more. The 888poker shop is a good example of a shop that is bound to have something to please everyone, from the most infrequent micro limit players to the professionals working at poker for a living.
Many different items are available to players of all levels in online poker shops. The only decision you have is choosing which items to buy!