What Are 2017s Most Anticipated Online Games?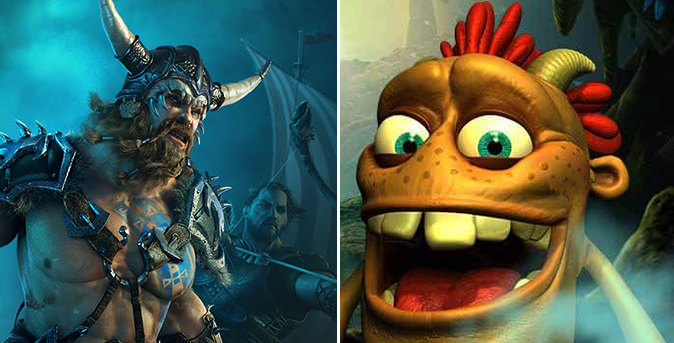 888.com reviews 5 hot games in 2017. These include Angry Bird Evolution, Vikings: War of Clans, Free Rider HD, Subway Surfer, and Jack's Pot.
VIKINGS: WAR OF CLANS
Vikings: War of Clans is an epic adventure game created by an MMORPG giant, Plarium. Set in an ancient age where Vikings ruled supreme, you will gather your axe and your shield, don your armour and prepare for a bloodthirsty confrontation. Vikings feared no one, and Plarium's
Vikings: War of Clans
is designed for battle hardened warriors. You are tasked with leading a fearsome fighting force of Vikings into an epic invasion. Your Viking army will pillage and plunder towns and lands for all the resources they have.
As you conquer your enemies and plunder new territories, you will become the most revered Jarl in the land. Initially designed for mobile, and now available to PC, Mac and mobile players – Vikings: War of Clans from Plarium is a masterclass of RTS gaming. The North is a cold and desolate white landscape of blizzards and blood. You are now a Viking warlord and you must wield your Axe with fierce determination. There is no place in this foreboding landscape for the weak and infirm – this is Viking territory. Unique battle strategies are needed to crush your opponents – brute strength alone will only get you so far.
ANGRY BIRDS EVOLUTION
Angry Birds Evolution is an uproarious addition to the universally popular Angry Birds franchise. It features turn-based Role Playing Gaming (RPG) with a player versus player (PVP) mode and full throttle action. If you're looking for familiar faces in the flock, you're not going to find them.
Angry Birds Evolution
features brand-new feathered friends. The OG Angry Birds game was created by Rovio, and it has endured a generation of eager gaming fans. Now that the franchise has finally spread its wings, it's like a Condor soaring in the Andes Mountains. This entertaining new addition to the franchise is classic and enticing.
Consider that the first Angry Birds hatched 10 years ago, and now that little Piggies are threatening the birds eggs, they need to fight back. Your job is to convince a flock of birds to defeat the pigs. This turn-based RPG is filled with rollicking action. Your flock of birds are angry enough to give the pigs a run for their money. A great game for mobile, and a fabulous addition to the Angry Birds franchise. Be advised: this is not a kids' game – it's expressly designed for adults. It's ideal for mobile players on iOS and Android. Angry Birds is a curious addition to 2017's most anticipated list of online games.
JACK'S POT SLOT ABOUT READY TO POP
Jack's Pot video slot is an otherworldly adventure into dark and dingy caverns where rare rocks and massive payouts await players. This game is available on
888casino
, and features 3 x progressive jackpot games. These are randomly triggered during the Crystal Jackpots Bonus Round. Players begin by depositing a minimum of €0.01/£0.01 per line, and the maximum bet is €10/£10 per spin. It's available on PC, Mac, Android and iOS devices.
There are 5 reels, and 25 paylines of rip-roarious action to enjoy. The Crystal Rock free spins round is activated with 3 x Scatter symbols on the spinning reels. Players will then choose from 6 possible elements with multiple winning features available. When you land 3 Scatters, you can win x 5 multipliers, and 5 Scatters multiply your winnings by 30. This jackpot-rich video slot game showcases free spins, wilds and a Crystal Rock Bonus Game.
FREE RIDER HD
If you're looking for some get up and go in your online gaming exploits, Free Rider HD is your ticket to the hottest dirt bike action in the world. This exciting game allows you to draw a track and upload it, compete in leaderboard challenges, and buy gear & coins at the shop. Trending tracks, hot tracks, feature tracks, the newest tracks and others are listed for your benefit. Simply click on a track, wait for it to load and press any key to get started. You'll be able to control the riders on each of the tracks, and compete against other players with the Global Best Times Challenge.
Once you find a track that you enjoy – Colossal Chasm, Illusion Demo, Starting Over, Ghosting Collab, or countless others – you can simply click to get started, share with your friends or give a thumbs up/thumbs down accordingly. Since this is an immersive and competitive game, you can go for gold in campaigns, earn coins for daily achievements, and enjoy over 423,000 player drawn tracks.
The leaderboard offers you global, friend and author rankings, so you know you're in good company. You have to get to know the keyboard pretty quickly, otherwise you'll find yourself flat on your face and clicking the enter button to resume your game. The tracks are displayed in black and white, with stick figure animation, but they are pretty exciting.
Free Rider HD
is definitely one of the hottest games in 2017, and one that is bound to impress the daredevils among us.
SUBWAY SURFERS
Subway Surfers 2017 is an arcade-style game designed for all players. Hip, hop and happening, the Subway Surfers are the daredevils of the stunt world. With some 24.3 million reviews at the Google Play Store, this fabulous game takes you on a hair-raising journey across train tracks as you dodge danger at every turn. Your crew is ready to grind trains in vivid HD. There is all sorts of hoverboard surfing going on, and lightning speed acrobatics. Get ready to challenge your friends in an optimized train-surfing game by
Kiloo and Sybo
.
With this new game, players get to join the World Tour in Florida, where Palm Trees and Latin flair reign supreme. Welcome to Miami – a sun-baked tropical paradise. You'll be meeting Nick the trendsetter as you surf the tropical flamingo board. Scour the beaches for pink flamingos with weekly hunts, and enjoy gold coins galore as you hover above subway trains in downtown Miami, and through water tunnels. Grab your jet pack and surf the trains for an even bigger rush. Check out the new outfit that Nick is wearing – he's trendy. Subway Surfers World Tour Miami is everything you expect from a high-octane, sun-baked, beach-themed game.